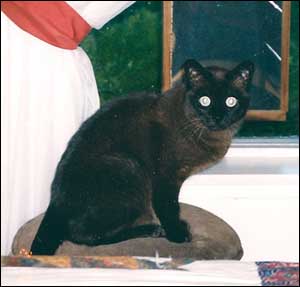 Shanti is a thirteen-year-old special needs Tonkinese cat who was born neurologically damaged, drags her left rear leg, and is not able to walk normally. Earlier this year, for reasons unexplained, she began to bite her left front paw, and it was quickly balding. When she needed to be put under anesthesia to clean her chronically bad teeth (despite a holistic raw-food diet!), she came out from under attacking the left front paw with a vengeance. What to do? She was anguished by the blue bonnet the vet recommended to try to protect her from herself. Red pepper on the paw didn't work at all. Then I thought of David Kennet, who came right over. Shanti was at first quite agitated, but as David began to work using the BIE, she calmed down immediately. I almost could not believe the results. She quit the behavior totally, completely, and for good!!! No second treatments. The hair has all grown back, and I'm ready to declare she's had a miracle.
Catherine L. Albanese
J.F. Rowny Professor Emerita in Comparative Religions and Research Professor
University of California, Santa Barbara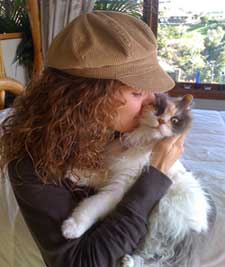 I have had the incredible blessing of this little Calico furball of love (fondly nicknamed "Patchy") for over twelve years now and she is beginning to suffer from a rapidly developing hypothyroid condition that is largely untreatable without surgery and heavy meds. This causes her to have anxiety and bouts of throwing up sometimes 2-3 times a day. Being that we are a homeopathic household, we use surgery/meds as a last alternative. That's when we discovered the "angel" work of David Kennet of SB Allergies. Not only was David successful in using his BIE treatments but he also performed Reiki on Patches, which had the most noticeable results the fastest. Within two hours after David's initial treatment, Patches was the calmest I've seen her in years and for the next two days didn't throw up even once! From there after continued sessions, Patches went from throwing up 2-3 times daily, to 1-2 times a week! Our beloved girl is now on the path to recovery and although her condition is not erased, she is much happier, and we have much more confidence as a family, that she will have many years ahead of sharing her continued light and blessings with us. Thank you David for all of the unexplainable miracles that you perform every day. You truly are a blessing to Santa Barbara and I HIGHLY encourage anyone who loves their pet to bring them in for a session with David. You will see immediate results!
Kimberly K. Ludwig
Owner, Busy Bug Errands
Montecito, CA